5 Influential People with Standing Desks
It's a common misconception that standing desks are a new phenomenon. While it's true that desk converters designed to hold computer monitors are relatively new on the market, some of the brightest, most influential minds in history developed some of their ideas with the help of ergonomic desks that let them work while standing up.
5 Influential People Who Used Standing Desks
1) Thomas Jefferson
History buffs and Hamilton fans rejoice; this one is for you. Thomas Jefferson used a tall desk for reading and drawing, with standing legs and a hinged top that could be adjusted to drafting height. This desk was expertly crafted to stand the test of time, which means he didn't fall into the trap of trying to make a DIY standing desk. If you're within driving distance to Monticello, you can even see for yourself; Jefferson's stand up desk is on display in the visitor center!
2) Ernest Hemingway
Hemingway's ergonomic workspace is given a shoutout in an interview published in
Issue 18 of the Paris Review (circa 1958)
. Journalist George Plimpton notes
"A working habit he has had from the beginning, Hemingway stands when he writes. He stands...on the worn skin of a lesser kudu—the typewriter and the reading board chest-high opposite him."

 
To save you a trip to your search engine of choice, I'll tell you that a "lesser kudu" is a species of East African antelope, and also quite an odd choice for an anti-fatigue mat. If Hemingway was still around, he'd be happy to know that there are better standing desk accessories available nowadays, and standing at work is more popular than ever.
3) Marie Antoinette
You know how the famous saying goes: "Let them eat cake...and stand at work." What? That's not how it goes? Well, blame the translation I guess. Point is, Marie Antoinette was an early adopter of the standing desk trend, having a multipurpose makeup table and writing desk custom-made by furniture craftsman Jean Henri Riesener. Riesener's pieces were no strangers to the palace of Versailles; this one in particular was commissioned in the later month's of Antoinette's pregnancy so she could stand comfortably while dressing, reading, and writing. With an oak veneer and gilded details, it's a stand up desk fit for a queen. However, we should really be giving our kudos to mécanicien (mechanic) Jean-Gotfritt Mercklein, who fashioned the detachable crank mechanism that allowed the desk to raise and lower. Now 240 years later, we offer the same technology in our Tranzendesk 55" full sized standing desk. For New Yorkers, Antoinette's desk is on display at the Metropolitan Museum of Art.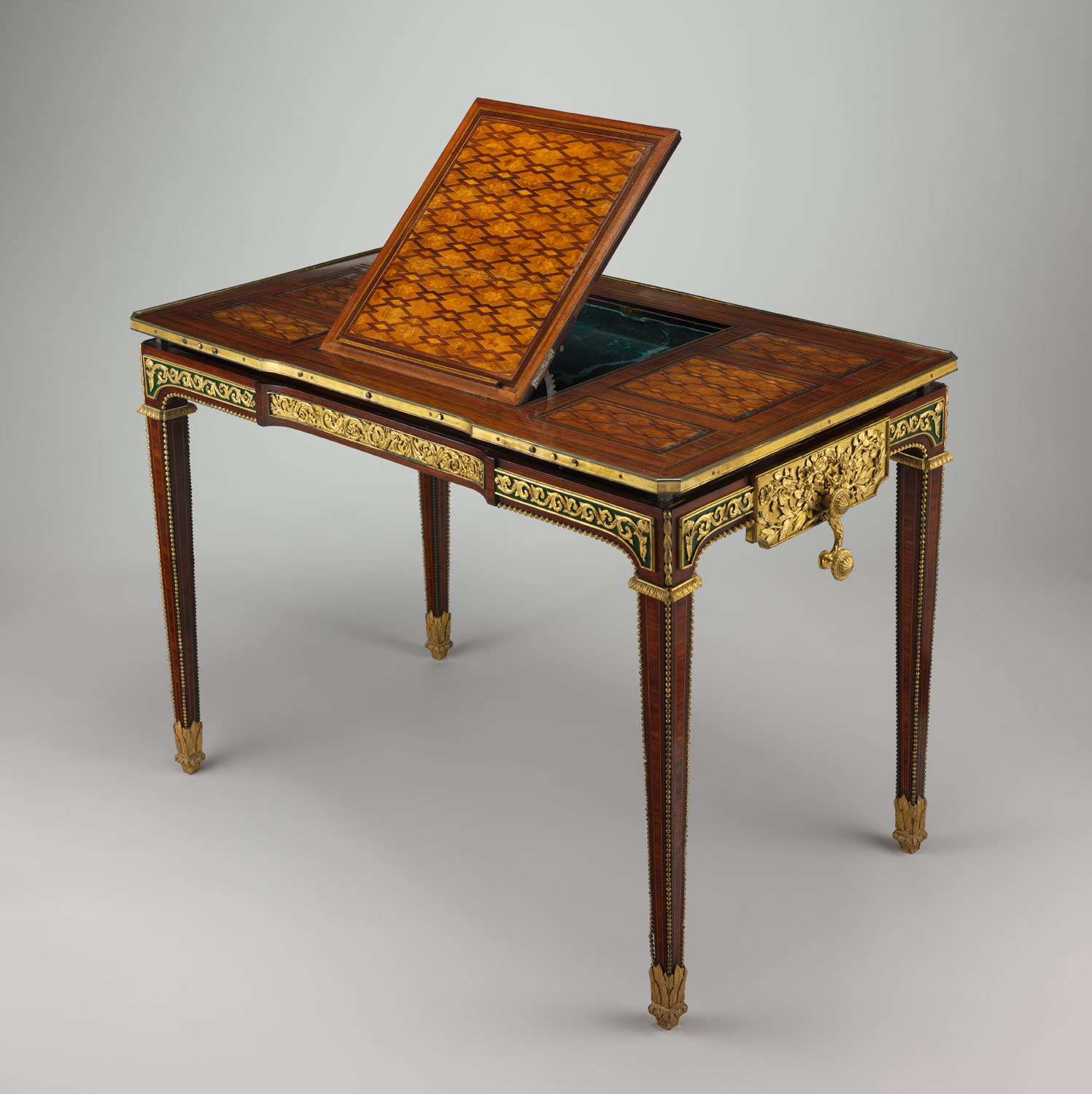 4) Winston Churchill
Ever have a case of writer's block? Stand up! It sure helped Churchill out. The former Prime Minister wrote some of his most famous wartime speeches while standing. There's several photos of Churchill using a static standing desk situated at drafting height; nowadays you can achieve the same stature with our Stand Steady Series, available in three sizes! It's unclear if he also suffered from back pain, but nonetheless standing surely kept his aches at bay.
5) Virginia Woolf
A pioneer in the modernist literary movement of the 20th century, Woolf took care in both the words she wrote and the position in which she wrote them. Woolf's nephew, biographer Quentin Bell, noted that she "had a desk standing about three feet six inches high with a sloping top; it was so high that she had to stand to her work." For someone who's 5'7", which Woolf was, this is actually just about the perfect standing desk height. Coincidentally, it's also just about the exact height of our Joy Desk if you're looking to outfit your Room of One's Own (aka your home office).